We just returned from a long weekend get-away to Santa Fe, which was delightful.
However, I was amazed at the choices people make for the clothes they travel and
sight-see in. I don't know why one would wear shorts on an airplane. First of all, it's
usually cool on the plane and secondly, how do you know who sat there before you
and what they may have dropped/spilled on the seat? It's bad enough you put your
head against a seat back where a stranger's probably dirty hair was just moments
before. I'm nor saying we have to dress up to fly, like when we were kids, but there
are ways to be comfortable on a flight without wearing your pajamas ( which we've
all seen!) I know work-out wear is now wildly accepted as normal dress even when
you are not going to or coming from a work-out. Sure it's comfortable and even forgiving,
(though not so much on the bodies that need the forgiving most) but I just want to ask
"No time to change and shower between yoga and your flight?" Or " Rushing to pilates
when we touch down?" I recently saw a group of young women touring a church and
chapel in tanks and work-out capris - not very respectful.Touring a city in workout wear
looks a little lazy,thoughtless and far from sophisticated and is just unnecessary.
There are options out there to be comfortable and still look put together.
The thought of wearing skinny jeans on anything longer than an two hour flight
may be scary, but it beats full-on yoga pants when you're not practicing.Warm- up
suits scream" tourist". Several jeans are stretchy enough to be comfy to fly in, yet
stylish enough to go to lunch or dinner when you land. The secret is in finding a
pair that has polyester in them besides cotton and spandex
or lycra.
Spanx's Signature Straight in dark wash is a great choice- feels nothing like
wearing Spanx's undergarments.
http://www.spanx.com/shop/spanx/apparel/the-signature-straight-in-dark-dipped
or try AG's "Prima" which comes in different styles and washes uses polyurethane
for a soft and stretchy fit. http://www.agjeans.com/
A cotton knit maxi dress or long skirt are also comfy choices that still look smart.
A soft short or long sleeve classic tee won't wrinkle like a blouse and will feel good and
keep you comfortable whether it's a short or long flight.I like black, white or striped.
Pair it with a navy or black blazer for a more upscale look, a cashmere or cotton
cardigan depending on the climate or your favorite jean jacket- on trend right now.
Throw a complimentary scarf around your neck and you have a finished look as well
as a little extra to wrap up in if the flight is cold and a little
extra something to put between you and the head rest.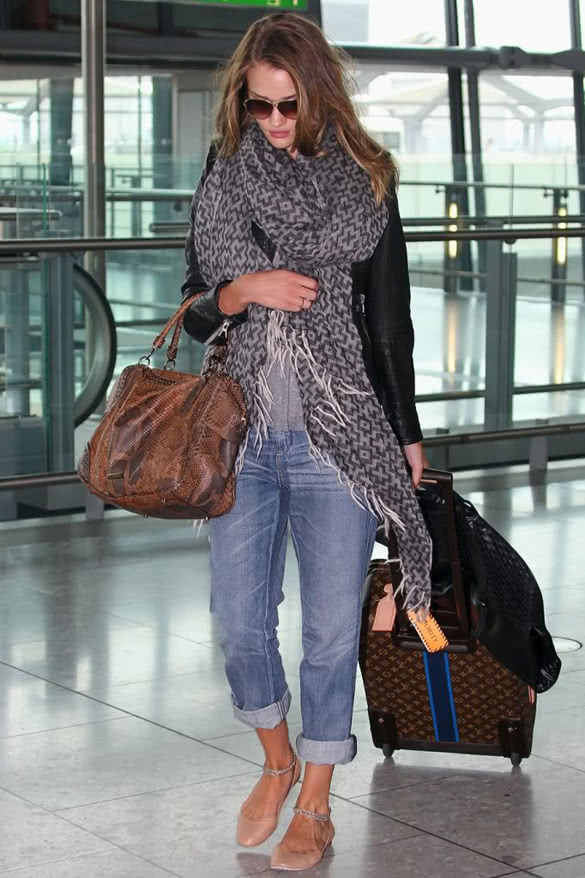 When it comes to shoes, unless you are TSA pre-checked or have your Global Entry,
easy on easy off is important.Sandals are fine for short summer flights but for longer
trips comfortable flats or some of the new cool sneakers make more sense. On a
lengthy international flight, bring socks to keep your feet warm and remove your shoes
Bon Voyage, Happy Travels and Safe Vacationing!