As our weather shifts slightly toward Fall (a drop in the humidity from 80% to 60% is huge to us Floridians),
I want to finish off the Fall Trends that should entice you. We've hit coated jeans, cobalt blue, lots of green and berry hues, animal prints and fancy sweatshirts. You will also see
Rocker Chic or Punk Luxe
(I didn't make up these names). Take from the trend what works best with your own style. It can be as major as studded jackets or tops and leather pants or as simple as accessorizing with a new studded pump, ballet flat or boot. There are quite a few handbags out with studs, as well to accommodate this trend.




If you don't have a

Leather Jacket, especially a "Moto"

styled one, this is the year to invest in one. There are lots of combos combining knits with leather. Black would be a great, classic choice, but adding a leather in a color could be a fun addition to your wardrobe. Besides jackets, leather is everywhere this season- skirts, dresses, t-shirts, vests and jeans. If your leanings are toward PETA ( People for Ethical Treatment of Animals) there are loads of faux and vegan choices. Many designers are doing non-leather leather looks. I suggest Free People, Macy's, Nordstrom's and Cusp ( upstairs in the Tampa Neiman's) as places to look.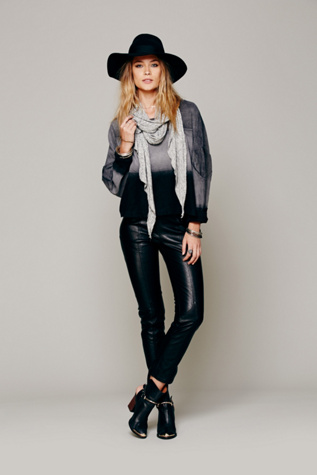 Borrowed from the Boys, featuring menswear patterns
,
is another trend for Fall. Houndstooth, glen plaids and hunter plaids used in somewhat unconventional ways. The menswear look includes foulard and jacquard patterns in pants and an oxford style shoe that is cute with skinny pants and fuller cut trousers. Loafers are a great way to accessorize this trend also.
Statement and Oversized Coats
-
Every Fall, I miss the change of seasons and crave a new fun coat that I would be shopping for if I still lived up North. Then winter comes to New York and Chicago and I am glad I reside in sunny Tampa. For those of you who travel and are investing in new outerwear, the looks are distinctive and/or over-sized. Color blocking is apparent here, as well. Lots of new choices.
Also on your radar for Fall should be
Black Lace for cocktail attire, Mixed Metals in jewelry, Pointed toe shoes are back, Pops of Bright Red- almost as a "new neutral", Over-the Knee boots and a bit more structured bags
. You don't have to run out and grab one of everything. Look around- online and in the stores- and purchase what feels most like you. Or a new, refreshed you. Getting out of your box is good,but not so much that you are uncomfortable. Some trends are just that -trends. Others can endure ( look at animal prints!). Pick up a few new things you love. Experiment with accessories. There surely is something for everyone out there. And don't forget to purge (some things you haven't been wearing) a little to make room for the new.