Is it really about the movies? It's all about the FASHION!
There were lots of beautiful women ( and men) looking
fashionable Sunday night. Color was prominent, beading was big
glamour and elegance ruled over basic and black.
My hits and misses follow-
Emma Stone has been daring this awards season
This elegant beaded dress screams old Hollywood
glamour, in a great color for her and complimentary
retro hairstyle and strong lip.
Sienna Miller is making her acting comeback
in American Sniper but she never left the fashion scene.
her truly original gown by Peter Copping ( at the reigns of
Oscar de la Renta) is a fabulous mix of silk and lace,
black and navy- a striking statement with her simple updo.
Rosamund Pike kind of rubs me the wrong way-
maybe it's her character Amy that I can't separate her from
or a sense of aloofness she conveys on the red carpet-
though when you hear her talk she seems just
happy and excited about Gone Girl's success
and how much fun she's having with it. She's worn some
not so sensational dresses earlier this season, but this was
a home run in my opinion. it shows off her regained
figure in curvy, yet elegant way.
Lupita Nyong'o rarely disappoints since she first appeared on the
Red carpet. This astonishing Calvin Klein dress is no exception.
Maybe not for everyone- 6000 pearls in varying sizes must be very
heavy, the lines are so flattering and a wonderful color for her.
Who doesn't love Julianne Moore? So happy to see her get the Oscar
but I didn't love this dress on her. Sure it's Chanel Haute couture and
the beading and jewels are incredible yet it didn't flatter her the way other
red carpet dresses have. She's much better in jewel tones with her coloring
and something more fitted to her figure like these dresses earlier this year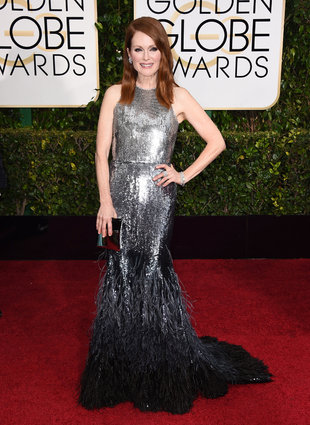 Loved Jennifer Lopez's dress but would it kill her to not wear something open to the waist?
What an investment she must have in fashion tape! Did you see Robert Duvall's wife had an
extremely similar dress on- wonder what JLO thought about that?
Dakota Johnson's dress was simple and elegant but didn't really do much for me-
(can't say I recommend the movie either)