MY FAVORITES and NOT SO MUCH......
A very long Oscar show last night had so many stars looking beautiful and Ellen was very entertaining. My favorites looks and not so much follow:
Loved Jennifer Lawrence-elegant and her hair and make-up killed it! You gotta' love her little trips on the carpet. Just shows someone so beautiful and talented can be just like us when she's nervous in a long gown and super high heels.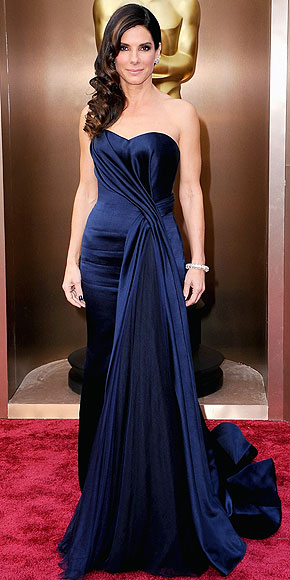 Sandra Bullock has never looked better for the awards shows this season. Understated and elegant. Everyone makes her sound so nice, too. Beautiful, talented, easy to work with-why can't she get a nice guy?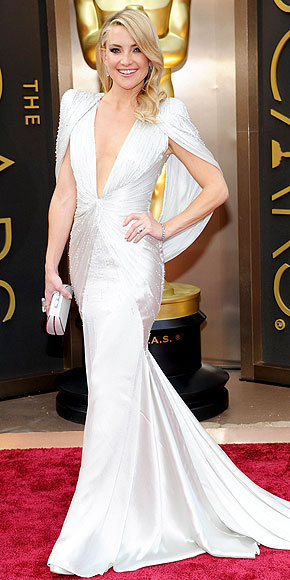 Kate Hudson really rocked a plunging neckline and lovely gown. The long loose side parted curls was the hairstyle of the evening. Hate to say it, but her mom seems to have had too much work and almost doesn't look like herself anymore.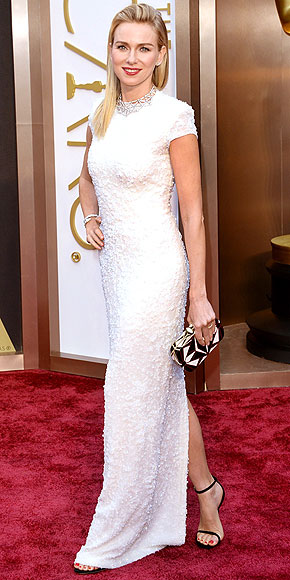 Naomi Watts is a perfect example of you don't always have to show a lot of skin to look sexy and sophisticated. Check out her accessories- black sandals and black and white bag-a little unpredictable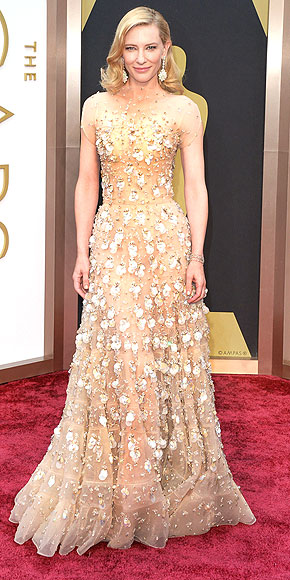 Kate Blanchett, best actress winner all season, is lovely in the Armani with unusual illusion details, making a statement in neutral flattering her coloring and figure.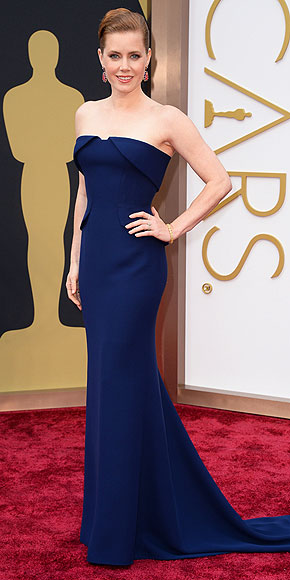 You didn't think I'd forget Amy Adams, so stunning in the perfect shade of blue for her (check out her eyes)? Less is more in this beautiful silhouette. Her stylist has been right on in the choices for Amy this awards season.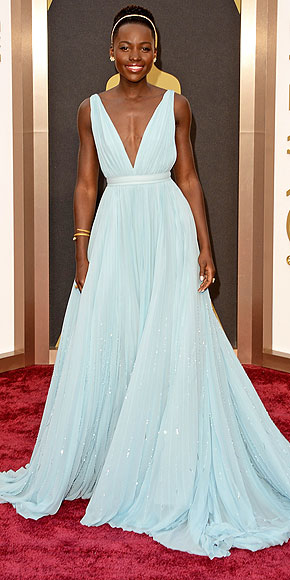 Beautiful actress, beautiful dress but not the best combination. I was uncomfortable seeing Lupita's bony chest. Happy for her win - great speech.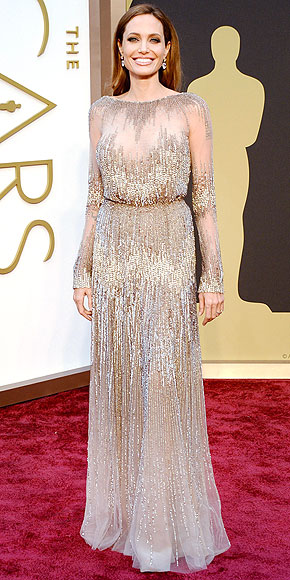 Angelina is a beautiful (and lucky) woman who uses her success and her means for many good causes. She looks elegant, but not her best last night. The dress is lovely but not the most flattering. She looks best showing a little more skin and showing off her figure more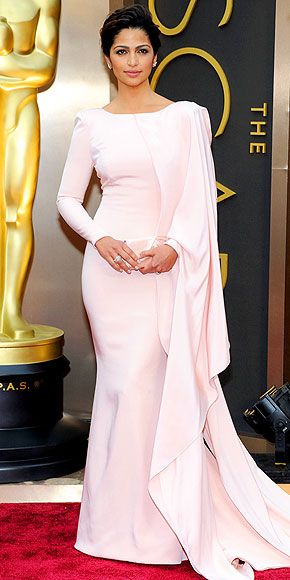 Camilla Alves pulled off the pink almost architectural dress and would probably be stunning in a paper bag, but again, she's one who does look better showing a bit more skin. At least around her neckline. Also wearing pink, but too much dress for her petite but amazing figure, was Penelope Cruz. I wanted to unwrap it! Definitely pretty dresses on these women but not their best choices.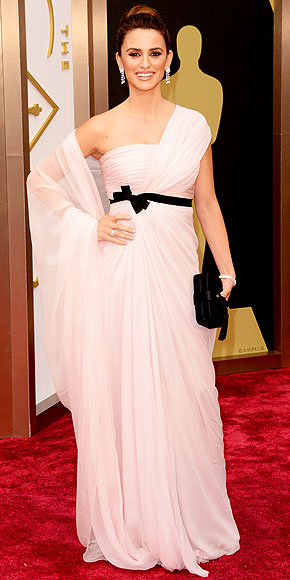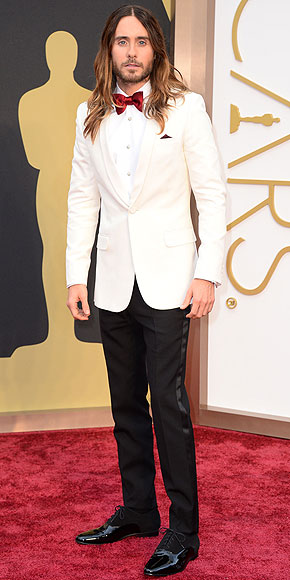 I'd like Jared Leto to wear a pony tail if he's going to wear his hair long. He is pretty, and surely had the long loose hair thing going but it doesn't really work for me on a guy. I do like that his mom has been his date to the awards shows and also his heartfelt acceptance speech.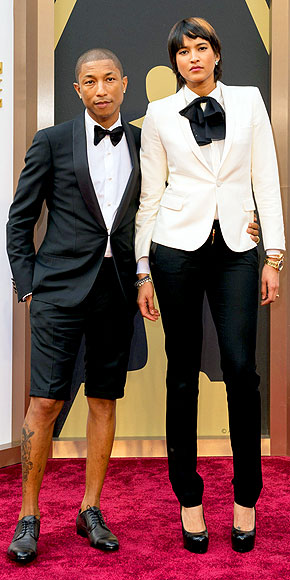 I love Pharrel Williams and especially his hit "Happy." (It always makes me want to dance when I hear it. If you haven't watched his "24 hours of Happy" video
http://24hoursofhappy.com/- you gotta' see it.) BUT-the shorts with the tuxedo and his wife's ensemble-not so much.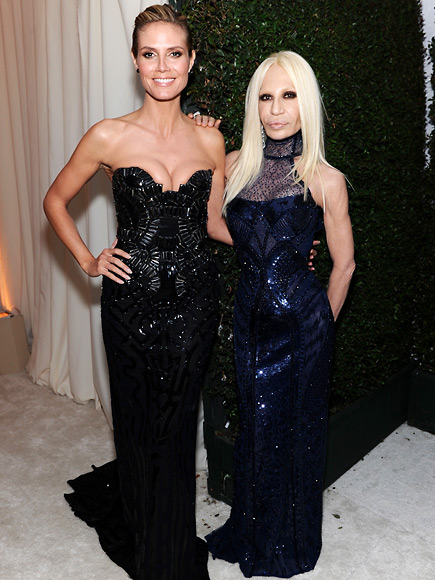 This photo captures celebrity excess-Heidi is spilling out of her dress (lovely as it is) to an unflattering degree and Donatella is an example of overdoing the injectables!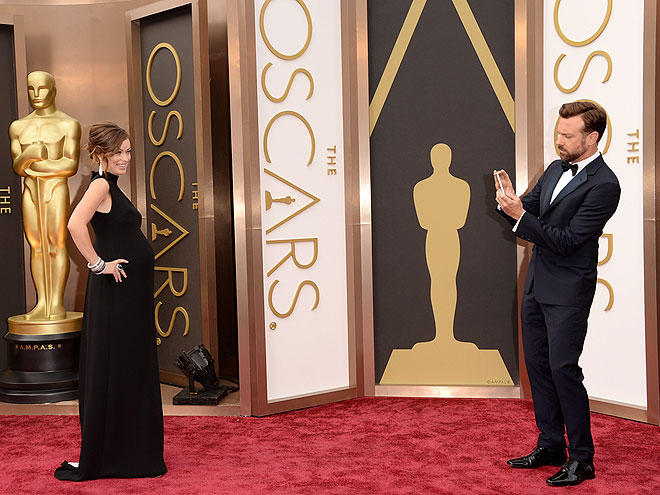 I love Kerry Washington-so pretty-and am a Scandal fan, but my vote for best dressed pregnant actress goes to Olivia Wilde in this elegant number (cool back on it). Such a cute shot of her fiance, Jason Sudakis taking a photo.

Charlize Theron looked stunning as always in a somewhat unusual dress. Fabulous on her, not so sure anyone else could pull it off. Jennifer Garner looked so glam at the Globes and SAG awards. Didn't love her dress last night, maybe a tad frumpy? Julia Roberts seemed to step out of her box. The black lace peplum number was flattering to her figure but not quite her best look. Meryl Streep was better than usual -never a fashion-plate (but always a best actress).

I could go on and on. I do love the fashion at the awards shows, as much or more than the movies themselves. Lucky for we normal people, adaptations of these elegant gowns will be at Neiman, Saks and maybe even Nordstrom soon enough for our own black tie events and there won't be critics to judge us so closely.